For more than 50 years, Custom X-Ray has provided medical professionals with the highest quality x-ray and imaging equipment. On top of these provisions, we have built strong and steady relationships with our customers. We take pride in our AMSP membership and woman-owned legacy with which our company has built a strong customer following, built up from word-of-mouth. Our imaging sales and services are top-notch and we strive to keep medical facilities stocked with the best equipment possible. Our goal is to provide our best equipment to a vast array of customers while also meeting their budgetary needs.
More Affordable Then You Think
When purchasing high-quality medical equipment, it is not always easy to see where money savings comes in. You may expect to pay the highest dollar for the best equipment, but with our special offers it will be easy to see your savings. We offer 25% off any service over $1,000. Consultation Services must be purchased by Dec. 31, 2020, in order to receive the 25% discount. To learn more, call us at (800) 230-9729 . This savings alone will make our products worth it, and your end of the year savings will continue to build.
Section 179 Tax Deductions – Buy Imaging Equipment & Save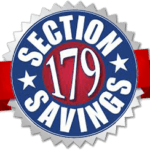 When calculating your year-end savings, don't forget to include tax deductions per the section 179 tax deductions. There is still time to EARN YOUR TAX SAVINGS! Take advantage of Section 179 Tax Deductions and get a huge discount on your medical equipment! Take advantage by buying your equipment now. The available tax incentives will, in most cases, dramatically reduce how much the medical practice and its principals pay in federal income tax, which in turn also reduces the quarterly estimated income tax payments. So stop by Custom X-Ray or give us a call to see how we can assist you in getting all of your x-ray and imaging equipment while saving you money in the long run.