C-Arm Equipment For Sale / Lease
Full-Size C-arms, Compact C-arms, Mini C-arms and C-arm Tables
C-ARMS FOR SALE, PARTS, UPGRADES & SERVICE
Custom X-Ray Digital is one of the largest providers of New and Refurbished C-Arms and have been doing so for many years. Our Fluoroscopic Surgical C-Arm Systems are easily acquired for sale, lease, or rent throughout the United States.
We sell a wide range of systems that come in different sizes from the most common full-size C-arms to the compact all-in-one full-size C-arms. We also carry the Mini C Arm Fluoroscopy Machines. At Custom X-Ray Digital we have all Major C-Arm brands and models including GE/OEC, Philips, Siemens, Ziehm, FujiFilm, Hologic, and OrthoScan.
Surgical Fluoroscope C-arms are used for many different specialties that include:
Pain Management
Orthopedics
Vascular
Cardiac
Urology
General Surgery
Office based labs (OBL)
Clinical Workshops
At Custom X-Ray Digital we provide equipment that is designed to fit the needs of doctors, hospitals, surgical centers, veterinarians, and healthcare providers. By knowing what best fits your needs we can provide a system that will fit your demand. If you do not know what will work best for your practice, please reach out to our sales team as they would be happy to go over the many different options that we can provide for you.
Full Size C-Arm Machines For Sale
New, preowned, and refurbished Full Sized C-Arm machines for sale from Custom X-Ray Digital. A full size C-Arm machine will fit into any treatment room that is ideally 12' x 10'. These full size systems accommodate doctors and surgeons' need to fluoroscope any part of the human anatomy.
Full Size C-Arm systems are typically equipped with either a 9″ image intensifier, often uses in Orthopedic and Pain Management procedures, or a 12″ image intensifier which is commonly used for Vascular imaging. They can also be configured for Cardiac procedures, and much more.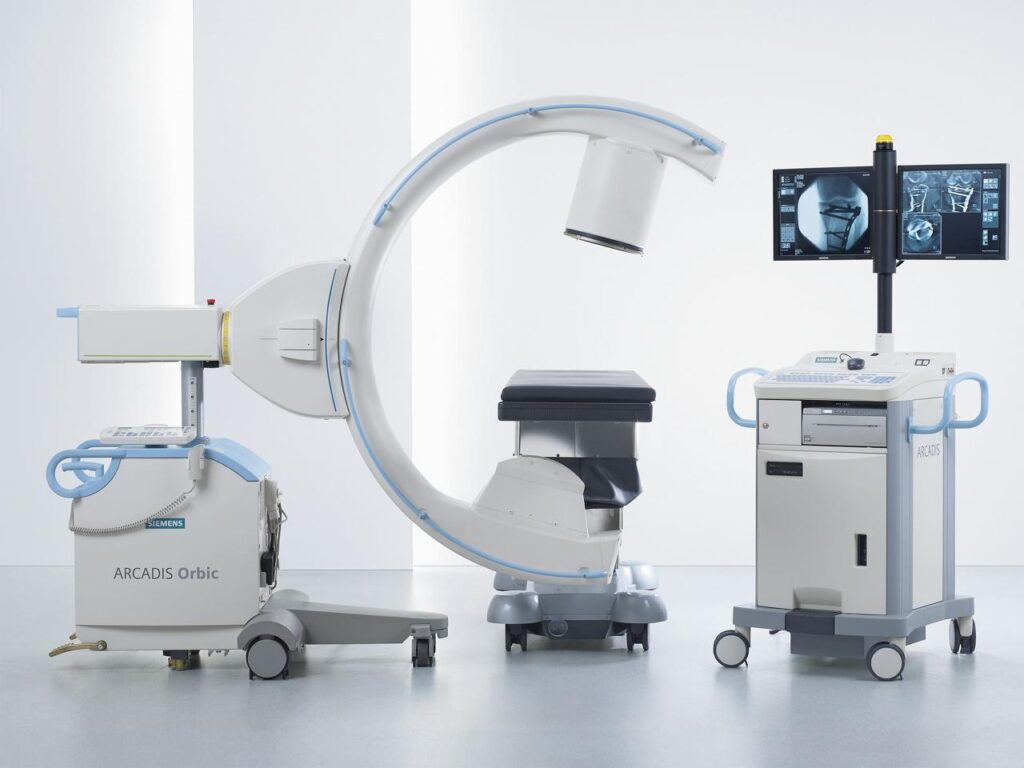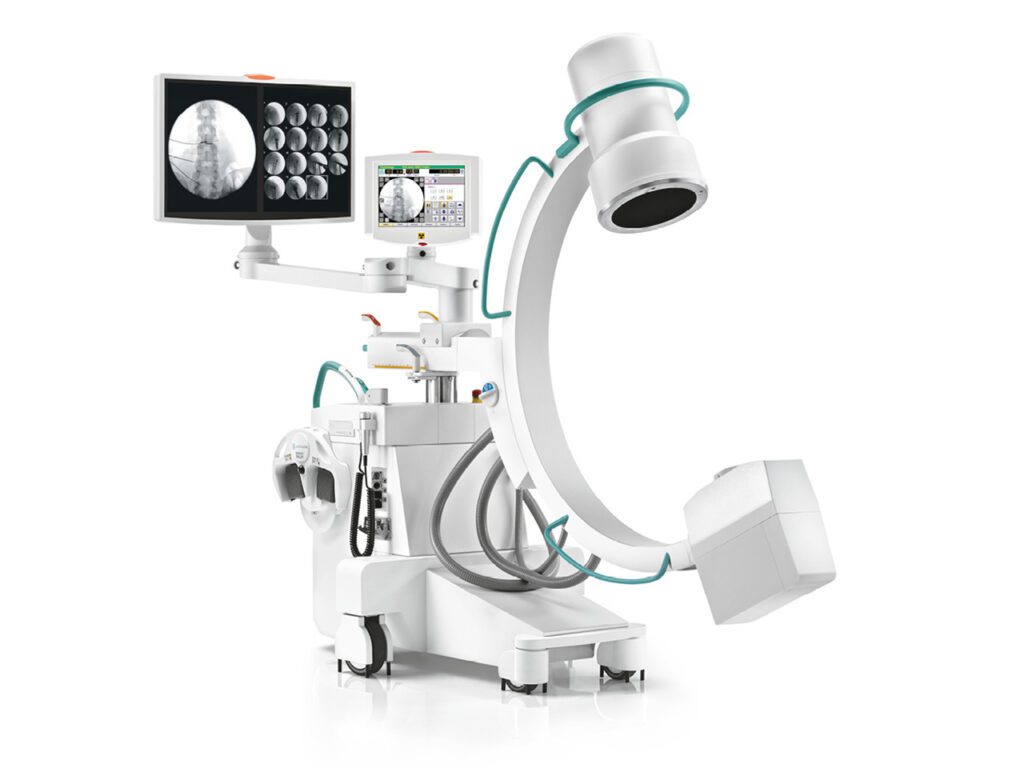 Compact C-Arm Machines For Sale
New, preowned, and refurbished Compact C-Arm Machines available from Custom X-Ray Digital. We rent and sell compact C-Arms from all the top manufacturers.
Custom X-Ray Digital also provides Compact C-Arm Repair and Maintenance Services as well as Parts Support.
Compact C-arm Machines are the hybrid of Fluoroscopic C-arms. One of the great advantages of a Compact C-arm is its mobility as it is only a one piece unit combining the workstation and C. With one piece it makes transporting them from room to room much easier. The compact size of these imaging devices allows for its use in smaller rooms while not sacrificing any of the imaging quality.
If you are looking for Mini C-Arms we have a large selection of those as well…
New, Preowned, and Refurbished Mini C-Arm Machines For Sale. Custom X-Ray Digital has one of the largest inventories of in stock, available mini c-arm machines from top manufactures.
Looking for Mini C-Arm Machine Rentals?
Mini C-Arm Machines allow surgeons to scan extremities, including: hands, feet, ankles, wrists, knees and shoulders. The Mini C-Arm systems small size offers better workplace maneuverability, while taking up less space and still have quality images.
Available New & Used Mini C-Arm Machines For Sale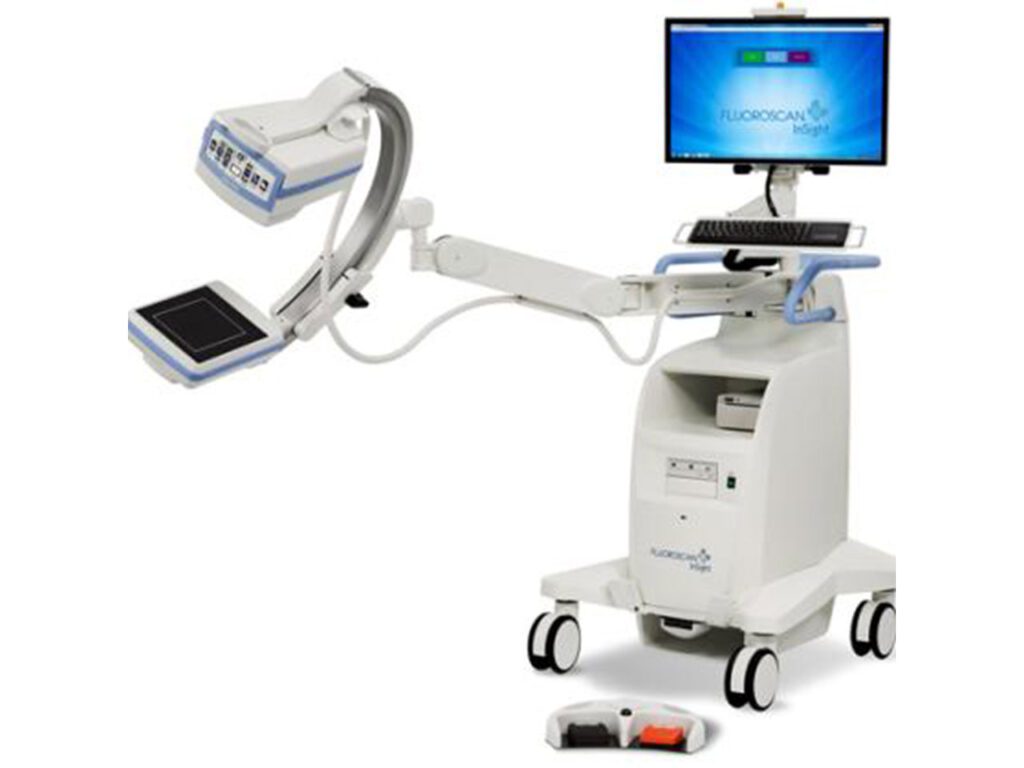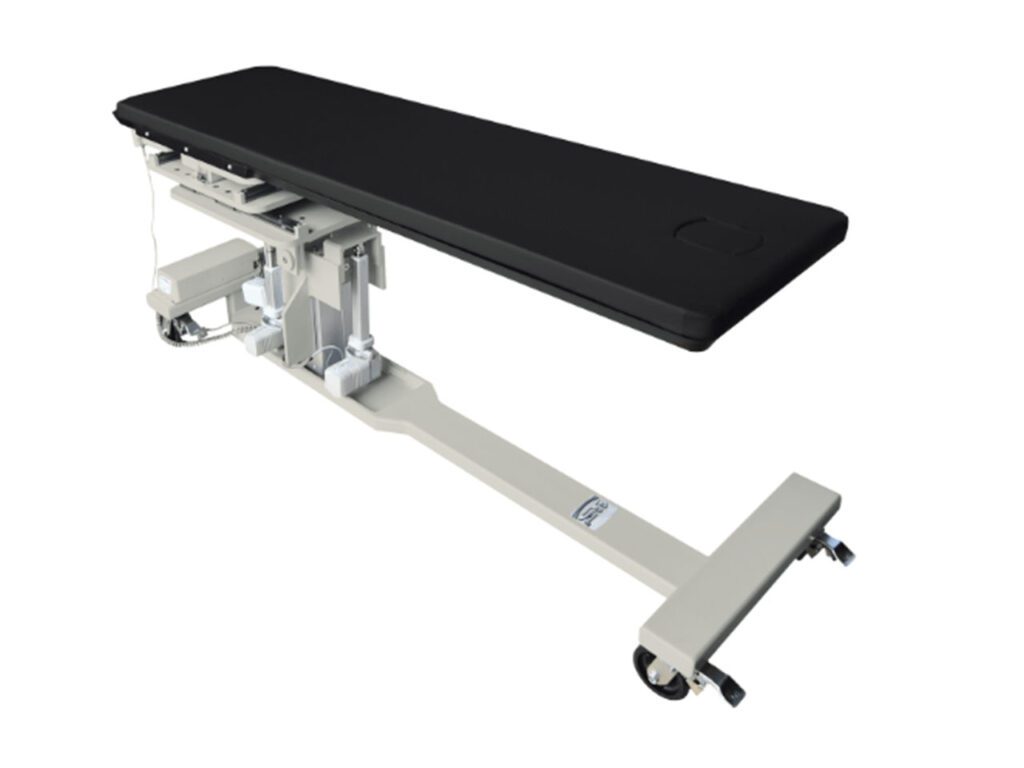 C-Arm Imaging Tables for Sale from Custom X-Ray Digital. We specialize in Fluoroscopy equipment and supply hospitals, surgical centers, and clinics with imaging tables throughout the United States. As a result Custom X-Ray Digital sells, rents, and services the largest selection of available new & refurbished C-Arm Tables.
C-Arm tables are special tables that are radiolucent and allow doctors to do minimally invasive procedures using Fluoroscopic guidance. Doctors and surgeons must be able to adjust patients with ease and precision relative to the procedure being done.
Custom X-Ray Digital understands the importance of having high quality, dependable medical equipment for all your needs. With that in mind, we provide C-Arm tables from industry leading manufacturers including Oakworks and Surgical Tables Inc.
New & Used C-Arms Available as well as Financing
Interested in upgrading your C-Arm today? Contact Us Now for a Free Quote!
C-Arm Equipment Service
X-Ray Equipment Service, Repair, Calibration, Installation/Removal for both conventional and digital.
C-Arm Equipment Sales
Buy New Digital X-Ray Systems. We Provide On-Site Installation, Training & Award Winning Support Across the US!

Ready to Get Started? Get a Free Quote Now!
Custom X-Ray Sales is a full service provider of medical imaging sales, service, installation, maintenance and support.
WHAT CLIENTS SAY ABOUT CUSTOM X-RAY
Our promise is a quality-driven service. After all, your success is our best advertising…
OUR SOLUTIONS INTEGRATE WITH ALL SOFTWARE
Here are some of the most common software we integrate with…