DEL medical recently unveiled their latest radiography equipment; FWFC (Floor-to-Wall Floor-to-Ceiling) system, which is considered as one of the most advanced x-ray digital equipment with an affordable price tag and great deal of flexibility. The FWFC system is based on space-saving and durable components with the addition of modern technology making it the perfect digital radiography equipment for the modern era. The DEL Medical FWFC is based on four main parts and offers tons of benefits that we are going to discuss below: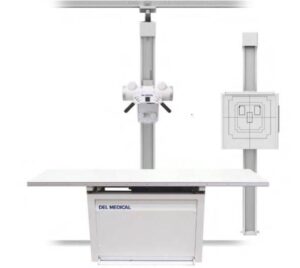 Components of DEL Medical FWFC Digital Radiography Equipment:
FWFC Tube Stand: It clearly displays tube angle even in a compact size with a height of 8 feet, and column to wall distance is just 6 inches. The FWFC tube has a pressure-activated rotation of 180 degrees as well.
RT100 4-Way Float Table: Highly durable four-way float table that can bear a load of up to 700 pounds. It is compatible with both CR/Film cassettes and digital flat panel.
VS100 Wall Stand: Another component with incredibly compact size without the compromise of performance. The VS100 wall stand has only 2 inches of a column to wall distance, contains dual counterweight cables and has electric lock release functionality as well.
ANTHEM High-Frequency Generator: The brain of the system, ANTHEM is very user-friendly and comes with three modes; APR (Anatomically Programmed Radiography), 3 point or 2 point technique set-up. It allows a great deal of customization meeting the needs of a particular practice.
DEL Medical FWFC Radiography Equipment Key Factors:
Saves Space: The compact size of Tube Stand and Wall Stand make the installation of DEL Medical FWFC system possible in virtually every room of an imaging center or urgent care hospital. Not only it saves a lot of space, the lightweight and small size also make it easier to transfer it from one place to another.
Flexibility: With the help of different settings, plenty of customizable options are available in the ANTHEM Generator. This flexibility makes it perfect to be used for most types of practices allowing high level of precision in results.
Made in the USA: The system is made in the U.S. with highest standards of workmanship and quality. The advanced technology and meticulous manufacturing make it both cutting-edge and durable.
Effective On-Site Training: Another benefit that DEL Medical offers is the on-site training. They offer the training packages with all of their products which is why their team of experts with years of experience is on the road for more than 30 weeks a year.
Final Words:
DEL Medical has definitely gone above and beyond to come up with this kind of technology in radiographic equipment. The system is designed to be used in professional environments where preciseness of results is crucial such as urgent care facilities and imaging centers. That is the reason for its space-saving size and load-bearing capacity of up to 700 pounds allowing it to perform flawlessly for several years.