Short for Picture Archiving & Communication System, PACS is a medical imaging technology developed to go beyond the limitations of typical imaging systems that use films. Its prominent features include quick fie retrieval, huge storage capacity, and access to images from various modalities and sites. As a result, cloud PACS has improved the diagnostic process and significantly increased the efficiency of workflow.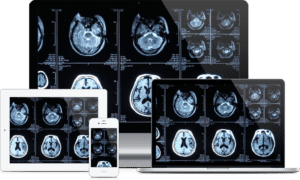 Cloud PACS works by acquiring images from imaging devices like Ultrasound, CT scan, MRI, and so on. These images are then converted into DICOM and then sent to workstations to be viewed. It often comes with more features to help with 3D reconstruction, peer review, and workflow management. Some components of a regular PACS are:
Imaging modality
Storage for images and other data
Display station for accessing and viewing images.
A computer network that connects all PACS components
PACS Vs. DICOM
These two can easily be confused because they work together as part of a whole cloud-based PACS system. While the PACS connects various software and hardware components to process, store and display medical images, DICOM formats all acquired images to be viewable on the PACS system. So, it's an underlying component of PACS.
Another way to comprehend this is PACS is a holistic system with many components integrated to work together to capture, process, store and display the images. On the other hand, DICOM is the language in this system that enables the communication between all components of a PACs system.
Advantages of Cloud PACS
Cloud PACs is significantly cheaper than regular PACS because there are no storage and maintenance costs.
Comes with a lot more image storing capacity than regular PACS because your data is on the cloud.
Easy image access using a cloud-based system allowing doctors to view data from outside the hospital.
The ability to send and receive images allows easy collaboration between doctors.
There are no local servers and hard drives in Cloud PACS which significantly reduces the storage space.
Top Cloud PACS: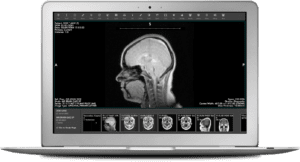 There's a whole range of PACS with little varying capabilities; let's learn about the best ones below:
PostDICOM: Come with cloud PACS and DICOM with over 50GB of storage, users have the ability to expand storage.
Ambra Health: All sizes of practices from medical groups to research organizations and large hospitals can benefit from this cloud PACS system. Individual accounts for accessing DICOM images can be made as well.
Study Cast: It's a SaaS cloud PACS that can be added into any infrastructure and features excellent customer care. It also has a free demo version like Ambra Health.
Quickpacs: It comes as both stand-alone imaging storage as well as DICOM cloud storage along with PACS or RIS (radiology information system) integration.
PowerServer: It comes with unique business intelligence-based analytics and reporting apps.
StellarPACS: Can be used anywhere from large hospitals to small clinics. Its DICOM viewer can independently be used anywhere and accessed via the Microsoft store.
HIPPA Compliance Requires – Cloud Based PACS Protection for Patient Images
7 years is required for HIPPA compliance for Adult Patient Images
21 years is required for HIPPA compliance for patients under 21 years
Custom X-Ray Can Set Up Your PACS Today!
The cost for traditional PACS can be anywhere from $5,000 to a staggering $100,000, depending on your practice's size. Why pay this much when you can get a better and faster PACS system having cloud computing capabilities in a lot less?
Talk to the experts at Custom X-Ray today, and we'll answer every question you may have and set you up with the best cloud PACS system. Call Custom X-Ray at 800-230-9729