Any chiropractic practice needs to have a reliable and sturdy chiropractic table. We offer many options of chiropractic tables in a variety of styles suited to meet your needs. Since 2009, we had associated ErgoStyle tables when PHS Chiropractic purchased the ErgoStyle adjusting table line from the Chattanooga Group, Inc.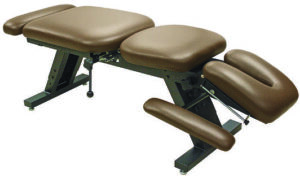 We have engineered a revolutionary line of chiropractic tables with a patented ErgoStyle drop featured, taking chiropractic adjustments further than ever before. We took modern chairs and elevated them
to add ease, comfort, and revolutionary additions, while also making them more comfortable and useful.
Our patented subversive drops elevate across the chair cushion's entirety, allowing for smooth and improved accuracy than if it would be on a single pin. This results in better patient and doctor satisfaction, as less force is present. Our ErgoStyle chiropractic tables' benefits make for the most significant amount of comfort, ease, and affordability.
The features alone make our ErgoStyle tables some of the highest-ranked, with the ability to create maximum comfort and durability. These tables' long life ensures that our customers are getting their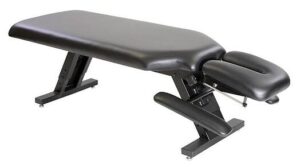 money's worthwhile offering the best care possible to their patients. Ease of use and expert fit add to the quality of these ErgoStyle tables.
Our tables can comfortably fit people with different body types and comfortably receive their treatment. Our patented drops make setting up and finding the proper position straightforward so that you are not second-guessing where to position the table to offer the least amount of resistance while easing tension. These state-of-the-art tables can be an essential staple to any chiropractic practice.
Custom X-Ray ErgoStyle Tables
Our chairs are consistent and durable and add ease of use that many others do not. Whether you want manual pump elevation features, a flat bench style, or an adjustable firm foam headpiece, we have the options to meet your needs and, most importantly, the needs of all chiropractic patients.
Why Choose ErgoStyle?
Patient Comfort
Carefully chosen, our foam density is designed for all types of patients and enhances comfort. Soft foam envelopes the face cushions while angled armrests provide shoulder relaxation in a prone position. Firm lumbar and pelvic cushions allow the best adjustment for these areas, while extra soft foam on the ankle rest feature extends and lowers to reduce tension on tight hamstring muscles.
Expert Fit
The ErgoStyle line makes each table more comfortable by expertly fitting the table to the patient. Moving the chest section up helps to flatten the patient's lower back, while lowering the chest section introduces extension to the spine. Gas spring technology counter balances the patient's weight, allowing the doctor to move the chest section up or down with the patient on the table.
Durability
The long life of each ErgoStyle table is a testament to its quality. The bearing axis points, clean welds, powder coated paint, hardened bolts and the Swiss lifting motor are just a few of the outstanding qualities. With the use of modern design and manufacturing techniques, ErgoStyle tables bring a new standard to the industry. ErgoStyle continues to grow and evolve with the addition of new products and new users worldwide.
Ease of Use
Avoid unnecessary searching with conveniently placed controls. All controls are located in a logical position and eliminate wasted time and energy including easy to adjust face cushions all the way down to controls for tilt, elevation and the breakaway chest release.
Custom X-Ray Ergostyle Chiropractic Tables
Are you in need of any Custom X-Ray Equipment or Tables?
Call today at 800-230-9729